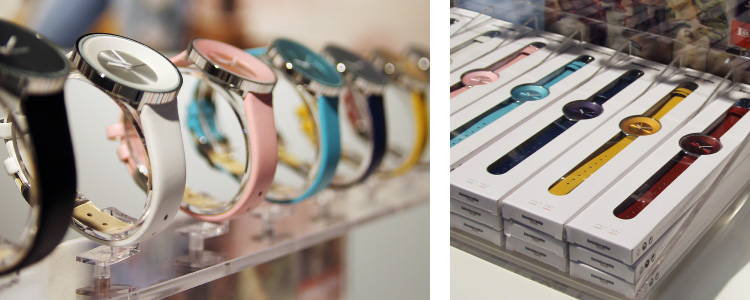 Ladies – 7 Pcs Display Concepts
Our extremely space-efficient Lambretta Ladies 7 Pcs Display Concepts are easily placed in many different shop environments and multi-category stores. Minimal investment with maximum ROI. Strong branding, affordable fashion accessories and free-access stock for smooth grab-and-go shopping, perfect for triggering impulse buying behaviour in your store!

Free-access Display
The small self-select concept (only measures 0.1 m2) displays 7 pcs of Lambretta Watches women's models and stocks a total of 35 pcs. Unique open display with free-access stock that makes it easy for all customers to touch and feel, try on wrist, and pick their favourite Lambretta watch.


Gift Boxes
Modern and slim boxes, well adapted to space management in store. The box has a window that nicely displays the watch inside and a tag for easy pull-out of the inner tray. Bar coded for easy handlng, and pre-packed with brand and warranty information.
.
---
.
Cielo 34 Solid Concept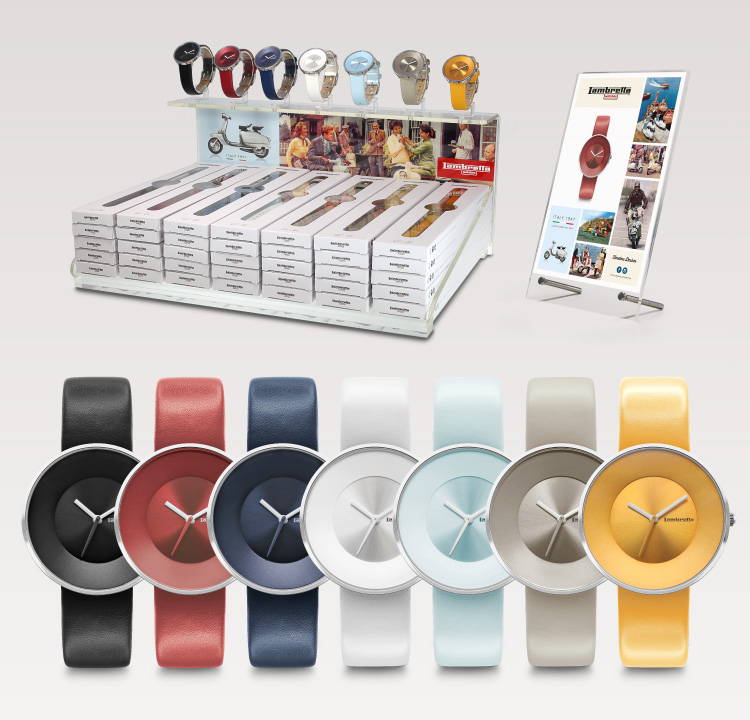 Sleek, thin and eye-catching. The distinctive dial, second hand and leather strap are all perfectly matched in the same colour. A fun and stylish fashion accessory for all occasions and outfits!


Watch Items:
2201BLA - Cielo 34 Leather Black
2201RED - Cielo 34 Leather Red
2201BLU2 - Cielo 34 Leather Navy
2201WHI - Cielo 34 Leather White
2201BLU - Cielo 34 Leather Blue
2201GRE - Cielo 34 Leather Grey
2201YEL - Cielo 34 Leather Yellow


Watch Specifications:
34 mm case, Miyota quartz movement, Stainless steel case back, Genuine leather strap, Mineral crystal glass, 2-year international warranty
Rec. Retail Price:
€69 / $85
Cielo 34 Solid Concept includes:
Cielo 34 Solid watches - 35 pcs
5x7 pcs (5 pcs of each colour)
Free access display (D2101) - 1 pc
Displays: 7 pcs
Stocks: 35 pcs
Size: W390 x L270 x H250 mm
Footprint: 0.1 m

2

(1.1 sqf)
Show card A5 (SC2201RA5) - 1 pc
Size: W148 x H210 mm
Show card holder (DA5) - 1 pc
Size: W150 x H230 mm


.
---