The Lambretta Hub Concepts are a result of evolution. With years of experience of watch sales in high traffic environments, we now have the perfect recipe for catching spontaneous shopping behavior in your store. With these space-efficient and freestanding hub units, we meet the time conscious traveller's high demands with our unique self-select displays for smooth and quick grab-and-go shopping.
Free-access or Locked stock
The slim hub units showcase both ladies and gents watch models, and stocks up to a total of 182 pcs (4-sided version) or 91 pcs (2-sided version). Both hub units are provided with add-on plexiglass shutters for optional free-access or lockable stock.


Display Hanging System
All stocked watches are on display using a smart hanging system. Easy for customers to touch and feel, try on wrist, and pick their favourite Lambretta watch!


Gift Boxes
Modern and slim boxes, well adapted to space management in store. The box has a window that nicely displays the watch inside and a tag for easy pull-out of the inner tray. Bar coded for easy handlng, and pre-packed with brand and warranty information.
---
4-sided Hub Display Unit – DHU6
Specifications
Displays: 30 pcs (16 pcs Ladies, 14 pcs Gents)
Stocks: 182 pcs (112 pcs Ladies, 70 pcs Gents)
(7 pcs of each Ladies model, 5 pcs of each Gents model)
Add-on plexiglass shutter for optional free-access or lockable stock
Lockable storage cabinet in bottom for extra stock
4 pcs of exchangeable show cards (one for each side of the Hub unit)
Two-piece construction for easy handling and installation
Measurements: W 55 x D 55 x H 140 cm
Footprint: Only 0.3 m

2

(= 3.3 sqf)


---
2-sided Hub Display Unit – DHU8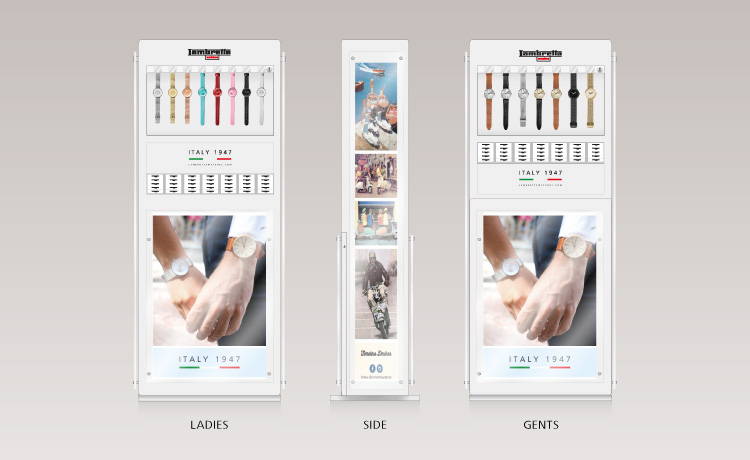 Specifications
Displays: 15 pcs (8 pcs Ladies, 7 pcs Gents)
Stocks: 91 pcs (56 pcs Ladies, 35 pcs Gents)
(7 pcs of each Ladies model, 5 pcs of each Gents model)
Add-on plexiglass shutter for optional free-access or lockable stock
Lockable storage cabinet in bottom for extra stock
4 pcs of exchangeable show cards (one for each side of the Hub unit)
Measurements: W 55 x D 30 x H 140 cm
Footprint: Only 0.16 m

2

(= 1.8 sqf)


---